In Intravascular Therapies (IVT), we Value Life by providing short, medium and long term vascular access devices (VADs), all designed to meet a wide range of clinical needs. Our motivation is 'the right line for the right patient at the right time.'
Complementing our midlines and PICCs is our ECG tip location system. In addition there are portable elastomeric infusion pumps as well as a closed system transfer device for chemotherapy delivery.
This hub is dedicated to sharing our knowledge and expertise by linking you to the latest clinical papers, official guidance and protocols, education resources and learning tools.  All the resources at your fingertips so you can access the information you need, when you want it.
Our priority is complete, integrated healthcare solutions so you can deliver best practice and improve clinical outcomes.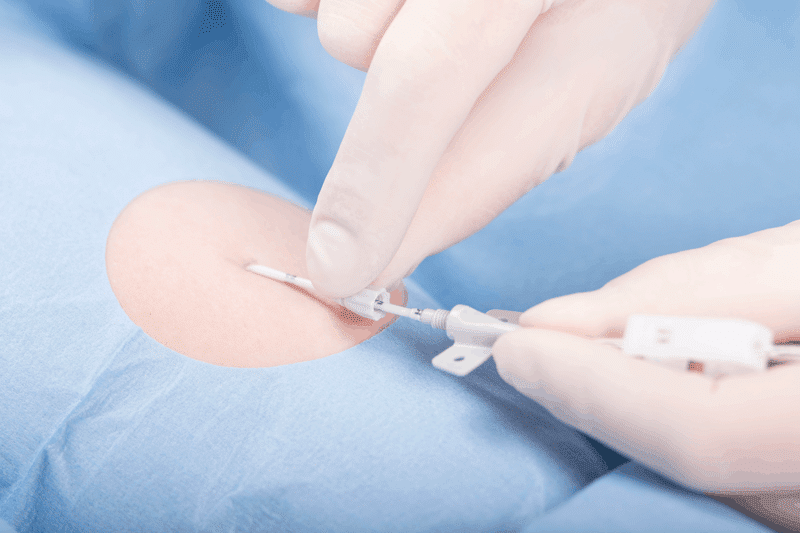 When appropriate, receiving care and treatment in the community has both clinical benefits for the patient and operational advantages for hospitals. Here we explore how this can work effectively for everyone involved.
Designed to support teams using our Intravascular Therapy products, these packs cover the range of issues we regularly focus on during our training and education programmes.
 At Vgyon training and development are integral to our culture. We are committed to supporting our customers learning needs by offering a variety of online resources they can access at a time to suit them.
Our brand new case studies section of the website providing supporting evidence of how Vygon collaborates with Hospitals and Trusts to improve the delivery of Vascular Access and improve patient experience.
The high-security connection for systemic anti-cancer therapy. A complete range of devices for the preparation, transfer and infusion of medication which focuses on safety from start to finish
Selecting the right vascular access device that is best suited to the patient-specific clinical conditions, proactively supports timely clinical intervention, reduces vessel damage and preserves vessels for future use.
Request a virtual training session with our team
Due to the current COVID-19 situation we are not currently able to provide on-site training and education, to request a virtual training session or information call with one of our team, please contact us by clicking the box below
At Vygon our focus is to be the 'best in class'; to understand the world we work in and how our products fit into that world.  Our dedicated sales team – backed up by experts at our UK headquarters - ensures our customers get the support they need on the ground in hospitals as well as in the community.
To deliver an excellent service there is no substitute for first-hand experience and knowledge of the issues and pressures healthcare professionals face when treating and caring for patients. That's why we are proud to have Clinical Nurse Advisors in our Vygon IVT team. As highly accomplished specialists in their fields, our Clinical Nurse Advisors offer a premium level of valuable support.
With their expertise, we have produced competency frameworks incorporating national and international guidelines that cover how to use and care for our products. The level of detail and skill in our implementation training packages ensures that our Clinical Nurse Advisors are able to teach and sign off key vascular access competencies, that nurses take with them throughout their careers.
In partnering with NHS teams, our support is there on an ongoing basis through our educational and training programs as well as our learning resources. In short, the support never stops!
Linda has been with Vygon since 2016. She worked for NHS Greater Glasgow and Clyde as a Vascular Access Lead Nurse before becoming a lecturer in Advanced Clinical Practice at the University of the West of Scotland. Linda is a registered nurse teacher and has a post graduate certificate in teaching and learning. After a BA degree in Healthcare and an MSc in Nursing, she recently completed a PhD focusing on the lived experience of vascular access.
Tracey has worked with Vygon since 2015. As a nurse she worked in intensive care and high dependency units as well as managing a team caring for patients with chronic/acute intestinal failure. This involved managing the patients' vascular access devices in combination with their holistic needs. Tracey has a BSc in Acute Dependency Care, a post graduate certificate in teaching and is currently working towards her MSc in Advanced Nursing Practice.
Frequently Asked Questions
Relevant Referencing and Support
For more information please contact us