In this section we profile our catalogue of online learning materials. At Vgyon training and development are an integral to our culture.  We are committed to supporting our customers' leaning needs by offering a variety of online resources they can access at a time to suit them.  This includes a comprehensive and robust online training course for midline insertion using Moodle, the world's most popular learning management system.  In addition, we offer learning via our online presentations and demonstration videos, which you can access here. All of our content is evidence based and up to date.
Please contact us directly using the link below if you would like to access our Moodle course for midline catheter insertion.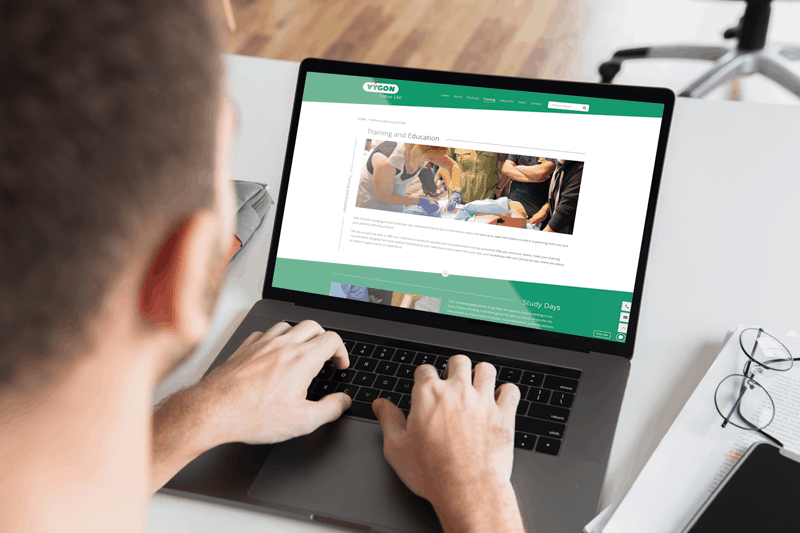 Distance Learning Modules
This training programme is designed for clinicians who are interested in undertaking a detailed course on midline device insertion. This is an interactive course which contains detailed information on all aspects of midline insertion, assignments and competencies to test your knowledge and increase your confidence prior to learning the procedure of midline insertion.
To request access to distance learning module click the link below.
This presentation looks at insertion TCVCs (Tunnelled Central Venous Catheters) and some of the benefits to the patient.
This presentation looks at Intracavitary ECG Technology to Determine Catheter Tip Position
Frequently Asked Questions
A selection of frequently asked questions for clinicians using leaderflex, smartmidline and lifecath midline catheters.
Disclaimer
The use of Vascular Access Devices can result in harm to patients and adverse outcomes. Vygon (UK) accepts no liability for the consequences of any actions taken where the following guidance is not taken, or the details within the associated IFU (Instructions for Use) not adhered to.
Purpose
This document has been designed to provide information to clinicians using leaderflex, smartmidline™, or lifecath midlines in practice. Where possible, the information provided has been gathered from research evidence. However, where this is not available, information is provided using expert opinion and from RCN or INS guidelines.
Information regarding insertion and care and maintenance of midlines is provided during device insertion sessions and specific training sessions available from Vygon (UK)
Support literature regarding insertion, care, and maintenance, along with Patient Information for midlines are also available from Vygon (UK)
Download our FAQ document designed to provide information to clinicians using leaderflex, smartmidline™, or lifecath midlines.
For more information please contact us