Vygon Midline Moodle Course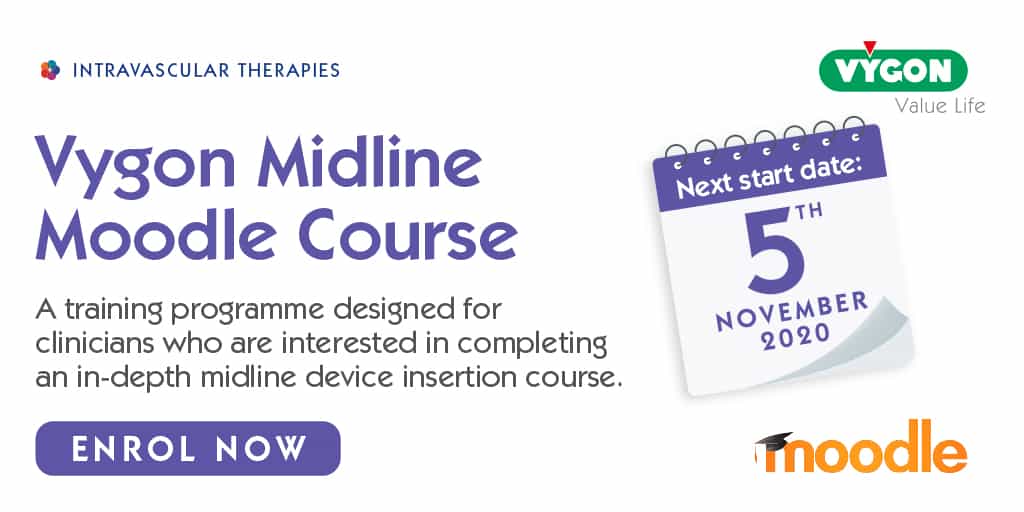 Vygon Midline Moodle Course
A training programme designed for clinicians who are interested in completing a in-depth midline device insertion course.
Starting 5th November 2020
---
This interactive course contains information on all aspects of midline insertion with quizzes, reflections, assignments and competencies to test your knowledge and increase confidence.
Course Objectives
At the end of the course you should be able to:
Summarise key considerations when selecting the most appropriate vascular access device
Demonstrate an understanding of ultrasound guidance for venous access (if required)
Demonstrate a knowledge of the anatomy and physiology as related to Smartmidline or Leaderflex insertion
Identify preferred veins for Smartmidline or Leaderflex insertion
Safely and correctly insert a Smartmidline or Leaderflex
Describe potential complications of Smartmidline or Leaderflex insertion, how to recognise them and interventions should they occur.
Course Content
Anatomy and physiology
Device selection
Overview of the Leaderflex, Smartmidline
Insertion technique ultrasound guided venous access
Complications of device insertion
This course can be worked through at your own leisure over a two month period. Prior to starting the course you should identify a competent mentor/supervisor who can support you to gain competence following this training session.
Click here to register your place.
Published 2nd September 2020
Contact us
For more information about the Vygon Midline Moodle Course please complete the form below